July 4, 1929, fireworks caught a barn on fire in the Western end of Plumstead Township. Because there was no fire company in Plumstead Township and because of the time it took for fire companies from neighboring townships to arrive, the barn was a total loss.
On July 22, a meeting was held in the Zeek bakery to discuss organization of a fire company and temporary officers were chosen. On August 13 a meeting was held in the Grange Hall and a permanent organization was formed and a charter was applied for on December 1, 1930.
The ladies Auxiliary put the first siren on Keller Glove Factory, and a back-up alarm, a large metal ring donated by Reading Railroad was located at the Plumsteadville General store. This ring now stands outside of Station 24 on Stump Rd.
The lot where Station 24 is now located was purchased in 1933 and a firehouse was built in 1939. The equipment, which consisted of a Hahn truck, delivered on May 30, 1930 for $3,500 and housed on the property of Walter D. Rush, was moved to the firehouse on January 1, 1940.
The second truck was a 1933 Ford panel truck, donated to the Fire Company, and put in service for $175, was nicknamed "Suicide Wagon" because it was top-heavy and had mechanical breaks.
Water for the truck came from a 10,000-gallon cistern underneath the firehouse and is now beneath the floor of our meeting room. With the addition of new equipment, the firehouse was enlarged in 1950 and again in 1964 and in 1986.
Some interesting facts:
Lowest number of calls in 1 year: 1942 – 9 calls
First radio equipment installed in 1955

Was updated in 2015 with new Bucks County Digital System.

In 1967 the first home alert receivers were used
Roast Beef Dinner has been one the same date for 20+ years
Past and Current Trucks:
1955

1930 Hahn 400/120 Engine

("The Hahn" was sold to Haycock FD)

1949 

1934 Ford Panel Truck With A  500GPM Front Mounted Pump

(replaced Suicide Wagon)

1946

1940 Chevrolet 500GPM pumper

1959

Ford Tanker with 300 GPM pump replaced 1940 pumper

1966

1958 Ford Harwick Pumper with a 750 GPM pump (See Pictures)

1969

GMC chassis replaced the 1950 Ford Chassis

1970's

1959 Mack Tractor with 5200 Gal.  trailer purchased from Swan Oil Co.

1974

1974 Mack CF-600 Pumper with a 1250 GPM Pump

1979 – 1991 (Squad 124)
1988 (Tanker 24)


1988 Mack  3000 Gal. with a 1000 GPM pump

1989 (Tanker 24-2)
1992 (Engine 24)

1993

Rescue-24 purchased from Squad 124

1995 (Engine 20-1)

1998 (Ladder 24)

1972 Mack 75′ Aerialscope

1999 (Engine 20)

2005 (Rescue 24)


2005 Spartan Evolution/SVI

2007 (Special Service 24

)

2011 (Special Service 24-1)


2011 Polaris Ranger with Trailer
RED = Current Apparatus
---
The member of the Volunteer Fire Company and the women's auxiliary pose for a picture in front of the company's tank truck. Photo by Plumstead Historical Society
---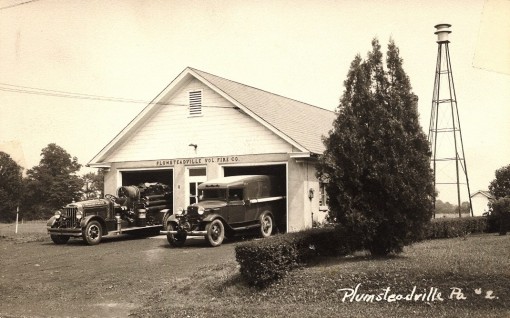 PVFC in 1950, A new fire station was constructed at Plumsteadville in 1950 and was enlarged in 1964 and 1986.
---
Tanker 24-1 1985 Harwick Ford F
---
Squad 124 1960 Dodge 300